Treating Emphysema
Although there is no cure for emphysema, appropriate management and treatment can reduce symptoms and improve your quality of life.
Medication
Depending on the severity of the disease, doctors use several kinds of medications to treat the symptoms and complications of emphysema. You may take some medications on a regular basis and others as needed.
Oxygen Therapy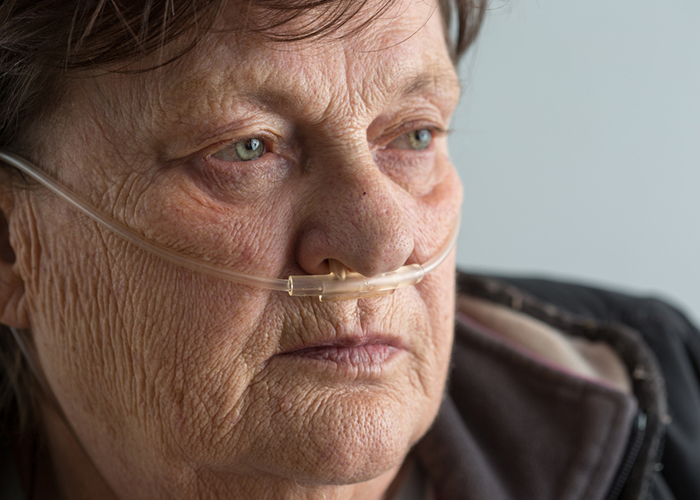 Oxygen therapy is used to improve oxygen levels, reduce damage and stress to vital organs and improve quality of life. Home oxygen can sometimes be prescribed if you have low blood oxygen levels.
There are several devices to deliver oxygen to your lungs, including lightweight, portable units that you can take with you to run errands and get around town.
Some people with emphysema are prescribed to use oxygen only during activities or while sleeping. Others use oxygen all the time. Talk to your doctor about your needs and options.
Surgery
Surgical options can be very effective in improving lung function and in a select group of patients with severe emphysema. Your doctor will be able to advise if you are likely to benefit from surgery because, as with any type of surgery, there are risks involved. There are a number of procedures available to patients meeting strict selection criteria.
Lung transplantation is a very complex therapy, which can improve survival and quality of life, but also carries a high risk of complications, including the risk of dying. Transplantation is only suitable for people who have no other options for treatment and survival or for those with significantly impaired quality of life.
However, not everyone qualifies for lung transplantation and those who do are limited by donor organ availability.
Lung volume reduction surgery (LVRS) is a surgical procedure that involves removal of the most diseased portions of the lungs. This allows healthier portions to expand thus improving lung mechanics and function.
Bullectomy is a surgical procedure to remove diseased air-filled spaces (bullae) that compress healthier parts of lungs. These diseased bullae do not contribute to gas exchange and therefore cannot enrich blood with oxygen.
Endobronchial Valve Therapy
While surgical options can be effective in improving lung function, there can be some serious risks involved. There are other minimally invasive treatment options available, such as endobronchial valve therapy, that can improve lung function significantly while avoiding the risk and recovery periods involved with more invasive surgery. Additionally, this treatment is fully reversible, meaning that the valves can be easily and safely removed if needed.
This procedure is not suitable for every patient with emphysema. It is important to understand that the procedure works by reducing the size of abnormally large lungs, so, unless the lungs are severely over-inflated to begin with, the treatment will not be effective.
Other endoscopic lung volume reduction therapies
Other techniques for endoscopic (non-surgical) lung volume reduction are also available or being developed. These include:
Endobronchial coil procedure
Bronchoscopic thermal vapour ablation
Biological Lung Volume Reduction using lung sealants